About Coach Ryan Faehnle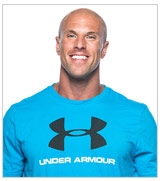 Coach Ryan Faehnle is a highly regarded industry leader as a former NCAA Division I Assistant Director of Strength and Conditioning who was responsible for the fitness and physical performance of hundreds of athletes competing at the highest levels in the collegiate ranks.
Throughout his diverse career, Coach Ryan has coached, mentored, and consulted athletes in 21 different sports at the high school, collegiate, and professional levels, with athlete successes ranging from NCAA All-American to NFL Super Bowl Champion.
In addition to training athletes for sports performance, Coach Ryan has consulted with top-level physique competitors who have sought him out for fat loss and muscle building advice.
Known as a coach that doesn't compromise on results, Coach Ryan has traveled the globe in search of the best training, nutrition, motivation, and recovery modalities that lead to success. His abilities were acknowledged at a high level when famed international Olympic strength coach Charles Poliquin welcomed Ryan to his staff, where Ryan lectured internationally on fat loss, training athletes, hypertrophy, nutrition, energy systems, and supplementation.
Unlike many "keyboard warriors," Coach Ryan's reputation lies solely in his ability to achieve results with his athletes and clients. On top of his "in the trenches" experience training himself and others, as well as his years of research and study, Coach Ryan holds a Bachelor's Degree in Exercise Science, and multiple industry standard certifications.
Ryan currently owns a private consulting business where he has authored a comprehensive fat loss e-book and has consulted with and coached both athletes and coaches in the professional ranks and the Olympic games.